Projects & Results
The Agricultural Science Center at Artesia has several projects under way. Below we have information and links on the most recent completed or nearly completed projects and their results.
New Mexico 2003 Corn & Sorghum Performance Report
Corn Silage Variety Trials
Pecan Entomology
Cotton Entomology
Linear Sprinkler System 2017
New Linear Sprinklers up and running.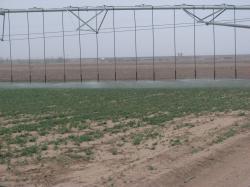 New Linear Sprinklers